For more than a decade, night-time arrivals at Gbessia International Airport in Conakry, Guinea, were greeted by dozens and sometimes hundreds of secondary school students studying in the parking lot. A foreign visitor's bemusement would quickly evaporate, however, as they noticed that beyond the bright lights of the partially French-owned and operated airport, block after block of the city of two million people was completely dark.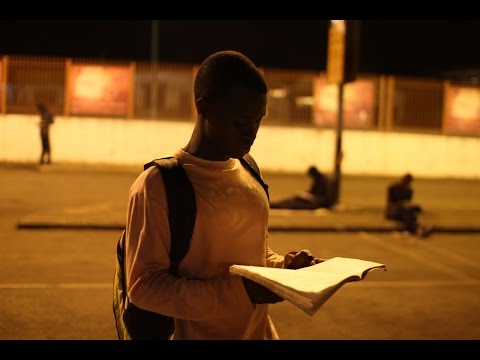 Without electricity at home and needing to study page upon page of handwritten lecture notes, many young Guineans made nightly pilgrimages to public spaces, such as the airport or hotel parking lots and gas stations where costly diesel generators kept the lights on.
Witnessing this phenomenon inspired film-maker Eva Weber's documentary Black Out, shot in mid-2011 and released in November 2012 to international acclaim. The film is concise and artfully composed. As a former Conakry resident, I appreciated Weber's beautiful portrait of this complex city, and that the entire story is told by Guineans, with the sole foreign voices coming from occasional audio clips of news broadcasts.
Beyond simply a "look at this sad situation" documentary, the story of students driven to succeed in the face of adversity is the starting point from which Weber subtly explores political and economic dynamics in Guinea.
It is certainly refreshing in a documentary on the challenges of an African country to not have the a westerner presenting the narrative. Black Out opens with clips of English-language news broadcasts contextualizing the state of Guinea in early 2011 – having just experienced its first democratic presidential election and struggling to manage competing foreign claims for its vast mineral wealth.
Continue reading on Africa is a country
By Nicole Gerber